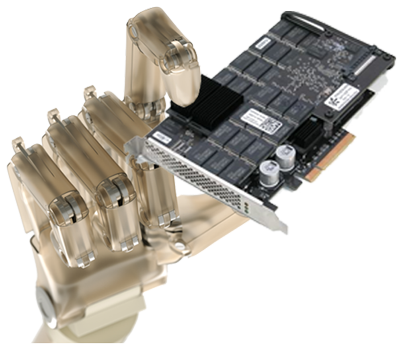 As part of my Industry Association involvement, I have recently joined the PCIe SSD Taskforce.  The charter of this organization includes providing guidance to the marketplace on PCIe SSDs.  This can take the form of educational materials, best practices documents and SNIA standards.  It is also involved with coordinating with other industry organizations involved in PCIe SSD-related activities.  Our goal is to stay consistent with the messaging developed by these organizations and do not reinvent materials, when such materials already exist and are accessible.  The Taskforce is structured as an open industry forum for the initial 90 days of existence, and thereafter as a SSSI committee.  No NDA is required and thus no confidential information should be shared amongst the members of the taskforce.
Topics of Interest :
1.  PCIe test hardware standards
2.  Performance test protocols
3.  Performance and reliability issues
4.  Power management and performance
5.  Controller configurations
6.  Product architectures
7.  Marketing issues
8.  Deployment strategies
9.  Industry standards
Storage Industry Takes Steps to Avoid PCIe SSD Fragmentation
Fifty industry representatives have signed on to a task force created to address interoperability issues related to a plethora of form factors and connectivity issues for PCIe solid-state drives (SSDs).  The Solid State Storage Initiative (SSSI) PCIe SSD Task Force, which is being organised under the Storage Networking Industry Association (SNIA), will deal with current standards, any standards gaps that need to be filled and end user concerns over interoperability between products.  Solid-state storage devices come in so many shapes and sizes that the electrical signal standards and OS drivers can vary from manufacturer to manufacturer. Unlike SAS and SATA interconnects, which only increase in speed with each new generation of product, PCIe is a good fit for SSDs, as it allows the interface speed to be increased quickly by adding PCIe lanes, according to Paul Wassenberg, chair of SNIA's SSSI.
SNIA Hopes to Standardize PCIe SSDs as Industry Gets Set for Major Shift
SNIA, who's stated goal is "to promote acceptance, deployment, and confidence in storage-related architectures, systems, services, and technologies, across IT and businesscommunities", has announced that they will be forming a PCIe SSD Taskforce.  This taskforce is charged with the duty of coordinating and providing guidance to the PCIe SSD marketplace. Their campaign will apparently include educational materials, best practicesdocuments, and SNIA standards.  For those unaware of SNIA, they are the Storage Networking Industray Association and the goal of this newly formed taskforce is to promote consolidation when it comes PCIe SSDs. Specifically, topics such as physical design, electrical characteristics, as well as the software interface which allows data transfer over PCIe, will be among the main areas of concern. It is expected that this will allow the PCIe SSD market to expand, making products more usable across disparate hardware and software platforms. I have to say, this news couldn't have come at better moment. With new PCIe SSD product announcements appearing on a regular basis, it would seem that the time is ripe to spearhead a standardization process. Considering the recent release of NVMe's common driver, the momentum towards a maxim now seems stronger than ever. Indeed, at the very least, it would certainly make life significantly easier for IHV's, who have thus far had to develop their own proprietary PCIe SSD interfaces in house. With the acceptance of a universal standard, much of the heavy lifting will already have been taken care of, letting the various vendors focus on things like performance, cost, and added value.